abc Mobile – Tourist Prepaid SIM
(While stock last)

---
SIM Card Activation
Please activate the Prepaid SIM Card before the expiry date shown on the Prepaid SIM Card packaging by:
(1) Make/receive the first call or send the first SMS
---
Services & Charges
Face Value
$78
SIM Card Type
3-In-1 for Nano, Micro & Mini SIM compatible device
Calls and Features
Local Voice Call 1
Free of charge with 3-day pass
(After first 3-day pass, additional subscription is required afterward usage)
IDD Voice Cal 1
To 30 designated Countries/ Destinations (Includes China): Free2 (Click here for details)
To Other Countries: IDD Charges2
*$0.45 per minutes Local Airtime will be applied
Roaming Voice Call
Details
Voice Mail
$5/ 30 days
Local Caller Number Display
Free of charge
Roaming Caller Number Display
Free of charge
Call Forwarding1
Local voice Call charge apply
Messaging Services
Local SMS 3
$0.1/ SMS (Intra-network)
$0.7/ SMS (Inter-network)
Effective from 4 December, 2018, new tariff will be changed to $0.3/SMS (intra-network)
International SMS 3
(sent from Hong Kong)
To China : $0.5/ SMS
To Other Countries : $1.8/ SMS
Roaming SMS
$3/ SMS
MMS
(sent from Hong Kong)
To a Hong Kong mobile number or email: $1/ MMS
To an overseas mobile number : $3/ MMS
Value-added Services
Hong Kong Local Mobile Data Pass 4
Data Pass
Charge
Subscription Code
1-Day Data Pass 5
$28 / 2GB Local Data Usage
*122*532*7#
3-Day Data Pass 6
$38 / 1.5GB Local Data usage + unlimited local voice call +
Unlimited csl Wi-Fi
*122*533*1#
csl Wi-Fi
Unlimited 7
Roaming Mobile Data Service
APAC 8,9
$38 / 10MB / Day
*122*632*2#
$80 / 40MB / Day
*122*632*3#
+APAC including China / Macau / Taiwan / Japan / South Korea / Malaysia / Singapore / Thailand
King King 10
$8/ Day
$88/ 30-Day - Subscription Code: *101*55*1#
Miscellaneous
Prepaid SIM Card main balance checking
*122*1#
Subscribed local service status checking
*122*2#
Roaming data service status checking
*122*3#
MTR/Tunnels/Mobile License/
Administration Fee
Nil
Prepaid SIM Card Validity 13
30 Days
Maximum Stored-Value Limit
$5,000
Any usage of local Voice Call, IDD Voice Call and All Call Forwarding will be calculated on a per minute basis. Any usage of less than one minute will be counted as one minute.
Local airtime charges apply when using IDD service. The IDD charges and coverage are subject to change from time to time without prior notice, for details, please click here.
Intra-network SMS is text SMS sent within Hong Kong to one2free prepaid customers, PCCW-HKT prepaid customers, 1O1O, csl and SUN Mobile customers. Inter-network SMS is text SMS sent within Hong Kong to other Hong Kong networks. International SMS is text SMS sent within Hong Kong to users of overseas networks.
Data Passes:

Any unused Local Mobile Data usage of Data Passes would be forfeited upon expiry of data pass validity period.
If you subscribe to multiple 1-Day/3-Day Data Passes simultaneously, all the Data Passes will be valid until the latest expiry date of the subscribed Data Passes and you may use the Local Mobile Data usage included in all the Data Passes at any time during the extended validity period.
If you subscribe to multiple 1-Day/ 3-Day Data Passes simultaneously, all the 1-Day Data Passes will be used first.

1-Day Plan includes a continuous 24-hour session upon your subscription.
3-Day Plan includes a continuous 72-hour session upon your subscription.
Please refer to "csl Wi-Fi Service" for details.
1-Day International roaming data pass must be subscribed via subscription code when roaming in selected destinations. 1-Day International roaming data pass will be valid for 1 day, the cut-off time of daily usage is 23:59 HK Time (GMT+8:00) of the subscription day regardless of the activation time of roaming destination. Any unused Mobile Data entitlement will be forfeited after the cut-off time.
You may subscribe to multiple 1-Day APAC roaming data pass simultaneously and the validity of all passes will be extended to 23:59 HK Time (GMT+8:00) of the "n" day. "n" means the number of 1-Day APAC roaming data pass subscribed simultaneously. You may use the Roaming Mobile Data usage included in all the passes at any time during the extended validity period.
Customers are required to download the KingKing application to utilize this service. KingKing is compatible only with certain handsets ( please refer to www.hkcsl.com/en/KK-voice-call-service-2nd/ ). $8/day, $88/30days for making outgoing calls to any Hong Kong phone number or receiving incoming calls from anywhere in the world via KingKing, cut off time of the day plan package is 23:59 HK time on expire day. IDD charges apply if making calls to non-Hong Kong phone numbers, and local voice call minutes will be charged for the duration of such a call during all calls. Charges for Wi-Fi connectivity and IDD charges (if any) are additional. Local voice call minutes will be charged for using KingKing application to make/receive calls in Hong Kong. csl cannot guarantee "KingKing" service performance on handset models not listed, nor call quality at every single Wi-Fi hotspot or any other place where Wi-Fi is available. Download the application from Google Play and App Store will incur local mobile data charge, while roaming data charge will incur in overseas.
Validity of the Prepaid SIM Card will be extended for 30 days from the date of recharge upon every recharge of HK$50 or above.
Terms & Conditions apply. For details, please contact 24-Hour customer service 179179.
We reserve the right to terminate your mobile service without prior notice if your remaining balance is $0 or less and no usage in past consecutive 3 months.
---
IDD Service
No need to apply for the service nor require any deposit, you can make high quality IDD calls with your Prepaid SIM Card.
Make an IDD call:
Press 001 Country Code Area Code Telephone Number
Notes:
• The IDD call will be charged once the call is connected.
• International operator assisted calls (e.g. collect call) is not applicable to this Prepaid SIM Card.
---
King King Voice Roaming Service
You can make/receive unlimited calls to/from Hong Kong through this KingKing app while you are abroad.
• For caller/receiver located in overseas, Wi-Fi connection, mobile device and KingKing application are required.
• Your friend/relative located in Hong Kong can use any fixed or mobile phone to call you without internet connection nor KingKing application installed.
Applications Download
You are recommended to download KingKing application before leaving Hong Kong, please go to Google Play or App Store and use "KingKing" as the search phrase.
You will need to complete a one-off registration to use KingKing. Please connect to Wi-Fi Network before switching on KingKing.
How to login and use "KingKing"
Click on KingKing application icon on your handset menu:
| | |
| --- | --- |
| | |
| (Picture 1) | (Picture 2) |
| | |
| (Picture 3) | (Picture 4) |
Enter your prepaid mobile number when using KingKing for the first time (Pic 1)
Enter password of prepaid SIM (Pic 2), you may get the password by dialing *111#.
Accept KingKing Terms & Conditions (Pic 3)
Switch on KingKing then it will change to blue, showing that all incoming/ outgoing calls are connected via KingKing (Pic 4)
Remarks:
KingKing cannot be used for emergency calls while you are abroad, so please make emergency call via your regular voice roaming service. However, you can use KingKing to make emergency calls in Hong Kong.
---
csl Wi-Fi Service
Use a Wi-Fi enabled device at more than 15,000 Wi-Fi hotspots all over Hong Kong. Simply plug and use! Hotspot Search: www.cslwifi.com
How to use:
1. Go to csl Wi-Fi hotspots, and set the Network Name (SSID/ESSID) to "CSL".
2. Launch your internet browser.
3. Type any valid URL into the address field and you will be redirected to the csl Wi-Fi login page automatically.
4. Login to the service:
i) Choose "Prepaid SIM Cards".
ii) Enter your mobile number and PIN to login to the service.
5. After login, a new offline window will be pop-up to let you terminate the connection. Do not close the offline window. To terminate your csl Wi-Fi session, simply click the "Disconnect" button.
6. If you have accidentally closed the Disconnect pop-up window, please go to hotspot.cslwifi.com and click "Disconnect" to logout.
csl Wi-Fi service is provided by Hong Kong Telecommunications (HKT) Limited subject to the terms and conditions of csl Wi-Fi service, available at www.cslwifi.com/support/download/Special_Condition_T&C_e.pdf.
To know more about csl Wi-Fi hotspots and coverage, please visit www.cslwifi.com.
---
Roaming Data Service
After you arrive at roaming destination and successfully subscribe to roaming data service, just simply follow the guide below to set the correct APN name to ensure the roaming data service works properly.
Set the APN name as "pmobile" (4 Eng letters "pmobile" & follow by a digit "1")
Android
Settings > Wireless & Network > More Settings > Mobile networks > Access Point Names > +New APN > APN > Insert "pmobile"
iOS
iPhone: Settings > Cellular > Cellular Data Network > APN: Insert "pmobile"
---
Recharge Method & Bonus
When the stored-value is about to be used up or you want to extend the Prepaid SIM Card's validity period, you need to recharge your Prepaid SIM Card by any of the following methods:
1.Via abc Mobile recharge voucher
You can purchase abc mobile recharge vouchers at any abc Mobile authorized dealer shops. You can recharge your account with recharge vouchers in Hong Kong or overseas. The value will be credited to your account instantly.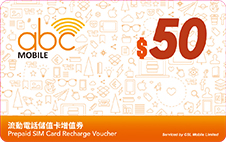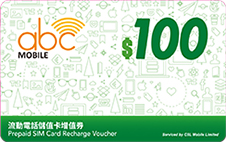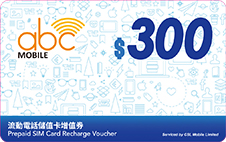 Recharge methods:
i) Call 179 179 or
ii) Press *109 * PIN # SEND
2. Online top-up via recharge voucher or credit card/Alipay
Enter the PIN printed on the recharge voucher or follow the instructions and recharge with a credit card.
Recharge Bonus stored-value up to 30%
| | |
| --- | --- |
| Recharge | Bonus(%) |
| Below HK$50 | Not applicable |
| HK$50 - HK$199.9 | 10% of recharge stored-value |
| HK$200 - HK$299.9 | 20% of recharge stored-value |
| HK$300 or above | 30% of recharge stored-value |
---
Sales Channels

Service Hotline: 179 179

GENERAL TERMS AND CONDITIONS of the Prepaid SIM Card