MEDIA Monthly Package provides a diversity of programs to suit Hong Kong viewers and offers HQ and SD streaming quality options. This on-the-go video experience is controlled by an easy-to-use interface and opens up a whole new vista of enjoyment.
Excellent content
Drama: Series from Japan, Korea, Taiwan and other nations, with bilingual broadcast.
Variety shows: See popular variety, games and celebrities' interview shows from Hong Kong, overseas and mainland China.
Travel: Informative entertainment and travel programming explores the world in depth. Lifestyles: Topics range from health information and cooking tips to everyday living styles.
Lifestyle: Lifestyle programs cover tips on health, recipes and style.
News: Daily bulletins, features, entertainment and information.
Kids: Cartoons and learning-based programs.
| | |
| --- | --- |
| Charge type | Service charge |
| Monthly fee | $59 |
| Monthly fee within commitment period | $39 |
---
How to use: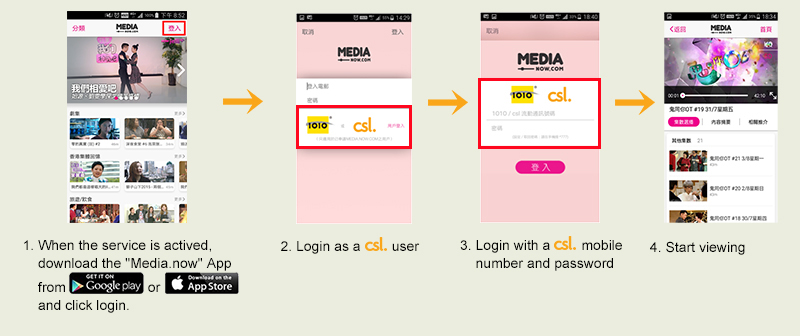 ---
Terms and Conditions for MEDIA Monthly Package (the "Service"):
The Service is provided to csl customers who have subscribed to mobile service plans with a data entitlement for use in Hong Kong. To utilize the Service, you are required to subscribe for the Service and download and successfully install the MEDIA.now app from Google Play or Apple App Store.
If you are using local mobile data to access to the Service, the utilized data usage will be deducted from the entitlement of your csl plans. You will have to purchase mobile data top-up if your usage exceeds your monthly entitlements.
You shall not, or permit any other person to sell, reproduce, copy, distribute, broadcast, transmit, re-transmit, modify, exploit the Service or any of its contents by any means or reverse engineer any content consisting of downloadable software.
Programs and contents of the Service are only for your personal viewing and access. You shall not, or permit any other person to show, play, use, access or view the Service and its content for any public or commercial purpose in any place.
PCCW OTT (Hong Kong) Limited reserves the right to edit, change, withdraw and/or withhold any programs or contents on the Service at any time without notice or any reason.
The service is provided by PCCW OTT (Hong Kong) Limited pursuant to the terms and conditions of the Service as set out in http://media.netvigator.com/html/tnc/media_tnc.html.
Video quality depends on your mobile device, service location, network coverage and usage.