WAP & Mobile Data Service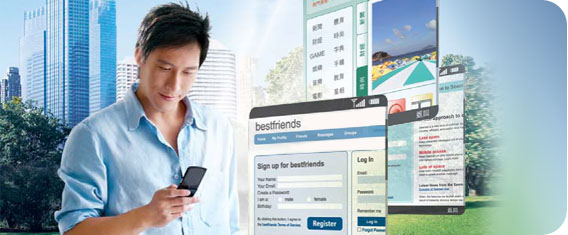 ---
Mobile Data service and charges
Mobile Data is the way to go for high-speed data transfer anytime, anywhere. With Mobile Data service and a handset, you can enjoy:
High-speed Internet and WAP access
Reduced connection times
Sending/receiving message alerts
Managing emails
Downloads of the latest video clips, music MV, logos, ringtones, picture messages and MMS content
Check out Infotainment service content (m.hkcsl.com) to see what's available!
3G/4G users
$0.08/KB
2G users
1 - 1024KB: $0.08/KB
1025 - 2048KB: $0.056/KB
2049 - 10240KB: $0.024/KB
>10240KB: $0.016/KB

With our Data Roaming service, you can enjoy fast, high-quality access to the Internet and WAP sites via handset from overseas. You can also check email, download our latest video clips, MVs, ringtones, logos and wallpaper and send MMS messages. Using these services while roaming will incur additional data roaming service charges. Please click here for tariff and details.
Note:
Each customer shall not use or apply Mobile Data service for:
hosting computer applications or programs, including hosted services and modem access for computers
providing server services, Internet based telephony, video conference, peer-to-peer file sharing and automated machine-to-machine connection
commercial purposes, dedicated data connection and substitute or backup for business lines
sharing use of such services with other persons not authorized by csl
---
Registration for Mobile Data or Mobile Internet service
If you are already a csl customer, please call our csl Consumer Service Hotline on 1000 or Business Customer Hotline on 10088 to register. If you are a new subscriber, please call 2888 0008 now.
---
Mobile Data setup and activation
Activate mobile data on your handset now and get online anytime, anywhere! Please click here for details.
---
Local / roaming mobile data tips
• Using a mobile data service overseas will incur roaming charges. If you need to disable a handset's data feature, please refer to the following steps (procedures and options may vary according to handset design):
OS: Android
OS: Symbian
OS: Apple iOS
- Choose "Menu"
- Click "Settings"
- Click "Wireless controls"
- Click "Mobile network settings"
- Untick "Data roaming
- Choose "Menu"
- Click "Apps"
- Choose a widget
- Click "Options"
- Click "Settings"
- Choose "Never update" or "Manual update" under "Auto update"
- Choose "No Roaming Data"
- Click "Settings"
- Click "General"
- Click "Network"
- Choose "OFF" under "Data Roaming"
Please consult your handset supplier on matters relating to OS.
• Some handsets auto-switch from Wi-Fi to mobile data connectivity under some circumstances. For details, please refer to "Handset settings for Wi-Fi Internet browsing".

• Some smartphones will auto-check for updates. Please read notifications carefully before accepting to avoid extra mobile data charges.

• Certain Android handsets may auto-switch to mobile data connectivity when the screen turns off, even when already connected to Wi-Fi. To avoid this scenario, enter "Settings" from the main menu > "Wireless controls" > "Wi-Fi settings", then press "Advanced" from the main menu, choose "Wi-Fi sleep policy" > "Never".
---
WAP settings
| | |
| --- | --- |
| Profile Name | csl |
| Homepage | http://m.hkcsl.com |
| HTTP gateway IP | 10.140.14.10 |
| HTTP gateway Port | 8080 |
| Access Point Name | mobile |
---
Streaming settings
| | |
| --- | --- |
| Data Account Name | csl Streaming |
| Access Point Name | mobile |
---
Modem settings
| | |
| --- | --- |
| Profile Name | csl |
| Access number | *99# |
| APN | mobile |
| IP Address | (system assigned) |
| Authentication | (not required) |