one2free Mobile Broadband Prepaid SIM Card (Now rebranded to csl)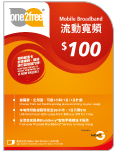 (Compatible with micro SIM, mini SIM or nano SIM handsets)
Choose from our flexible pricing plans according to your usage
Mobile Data 30-Day Pass: 3GB at $148! #
First-ever Prepaid BlackBerry® Service in Hong Kong
"Easy Menu" helps to manage your prepaid SIM
No contract, no registration.
# Service is available for use in Hong Kong and for HSDPA device only.
---
Services & Charges
Data Service
Speed
7.2 Mbps ^
Pass*
USSD Subscription through Handsets
30-Day Pass1 – 3GB
$148/ 30 Days

| | | | | | | | | | | | | | | |
| --- | --- | --- | --- | --- | --- | --- | --- | --- | --- | --- | --- | --- | --- | --- |
| * | | 101 | | * | | 933 | | * | | 2 | | # | | |

30-Day Pass1– 5GB
$258/ 30 Days

| | | | | | | | | | | | | | | |
| --- | --- | --- | --- | --- | --- | --- | --- | --- | --- | --- | --- | --- | --- | --- |
| * | | 101 | | * | | 933 | | * | | 3 | | # | | |

Hourly Pass2#
$8 / Hour

| | | | | | | | | | | | | | | |
| --- | --- | --- | --- | --- | --- | --- | --- | --- | --- | --- | --- | --- | --- | --- |
| * | | 101 | | * | | 832 | | * | | 2 | | # | | |

Day Pass3#
$28 / Day

| | | | | | | | | | | | | | | |
| --- | --- | --- | --- | --- | --- | --- | --- | --- | --- | --- | --- | --- | --- | --- |
| * | | 101 | | * | | 832 | | * | | 3 | | # | | |

7-Day Pass4#
$78 / 7 Days

| | | | | | | | | | | | | | | |
| --- | --- | --- | --- | --- | --- | --- | --- | --- | --- | --- | --- | --- | --- | --- |
| * | | 101 | | * | | 832 | | * | | 4 | | # | | |

Value-Added Service
BlackBerry Service
7-Day Pass4
$120 / 7 Days

| | | | | | | | | | | |
| --- | --- | --- | --- | --- | --- | --- | --- | --- | --- | --- |
| * | | 101 | | * | | 222 | | # | | |

30-Day Pass1
$460 / 30 Days

| | | | | | | | | | | |
| --- | --- | --- | --- | --- | --- | --- | --- | --- | --- | --- |
| * | | 101 | | * | | 221 | | # | | |

Calls
Local Call
$0.3 / min
Video Call
Intra-network $1 / min
Inter-network $2 / min
Call Forward
$0.3 / forwarded min
Caller ID Display
Free
Call Waiting
Messaging Services
Local SMS
$0.8 / SMS
International SMS (sent from HK)
$3 / SMS
Others
Mobile Service Licence and Administration Fee

Free

Validity period of one2free
180 days+
Maximum stored-value limit
$5,000

GENERAL TERMS AND CONDITIONS of the Prepaid SIM Card